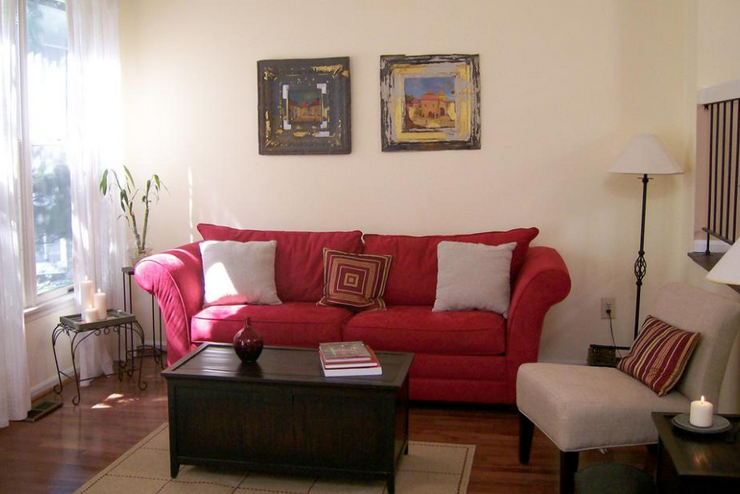 Staging your listing can make you money. Seventy-one percent of sellers' agents believe a well-staged environment increases the dollar value buyers are willing to offer, according to the National Association of REALTORS® "2015 Profile of Home Staging."
Living Room
Embrace symmetry when staging your living room. Coordinated sets, like these pillows, are pleasing to a buyer's eye. Image: Fluff Designs
When placing anything from accent pillows and table lamps, go for symmetry, which is pleasing to the eye.
Light it up with lamps. Chic lamps provide both added lighting and appealing decor.
Make that fireplace glow. Scrub away soot stains and replace the old screen.
If you're using staging furniture or buying slip covers, choose light colors for an airy, inviting feel.
Whatever amount of furniture you have in your living room, remove a few pieces to make the room feel spacious.
Use bright, coordinated accessories like accent pillows and throw blankets for a chic splash of color.
Help buyers imagine their life in your home. Set the scene by displaying a board game or tea service on the coffee table, and arrange furniture in conversational groups.
Let a slideshow of beautiful images play on your television like a screensaver.

Kitchen Staging is easy
Clear everything from counter tops except one or two decorative items, like a vase of flowers or bowl of fresh fruit.
Pack up all the dishes except one attractive, matching set. Do the same with glassware, flatware, and cookware, and pare down all other cupboard and drawer items down to the minimum.
Freshen up and modernize those cabinets with a fresh coat of paint or stain and new hardware.
Seriously evaluate your appliances. Can they look new again with a good scrubbing? Give it the old college try or consider replacing with new models. The Real Estate Staging Association strongly recommends stainless steel.
Remove those fridge magnets and give the door and handles a good cleaning.
Scrub dirt, grime, and stains from walls, cabinets, and backsplashes.
Clean cabinet interiors, especially under the sink.
Clean and organize the pantry, leaving some empty space to make it look bigger. Store items in decorative baskets and display a few jars of fancy jam and other upscale condiments.
Empty all trash cans and move them out of sight.